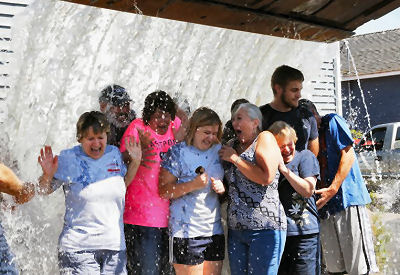 STAYING COOL and getting wet for a good cause on a hot August day are personnel from Federal Marine Terminals, Northeastern Longshoremen's Association and the City of Eastport who responded to the Ice Bucket Challenge on August 20 by the Eastport Port Authority staff, who also participated. The ALS Association is using the fund-raising method to spread awareness about amyotrophic lateral sclerosis, known as Lou Gehrig,'s disease. Anyone wishing to donate can call 888-9494-2577. (Edward French photo)
Subscribe to Quoddy Tides
Rates:$31.65 a year in Washington County, Maine
(tax included)
$36.93 a year in Maine, but outside of Washington
(tax included)
$35.00 a year in Canadian funds
Single copies: $1.25

PUBLIC NOTICES LINK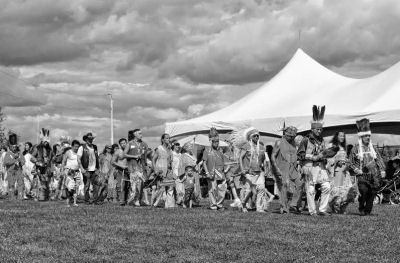 PROCEEDING to the dance field during the Grand March are Indian Day participants at Sipayik. (Don Dunbar photo)
TOP STORIES
by Edward French
Two of President Obama's Cabinet secretaries visited Pleasant Point on August 18 as part of a new initiative to reform the Bureau of Indian Education (BIE) and improve the quality of education received by Native students in the U.S. During the visit, Secretary of the Interior Sally Jewell and Secretary of Education Arne Duncan toured the Beatrice Rafferty School (BRS) to see first-hand the need for additional funding for a new school building. They also heard about the challenges faced by the Passamaquoddy Tribe, including high unemployment, and were asked to intercede on behalf of the tribe in its disputes with the State of Maine over the 1980 Maine Indian Claims Settlement Act.
Emotions run high during Pembroke tidal power meeting
by

Lora Whelan
Emotions ran high at the Pembroke town office on Friday, August 8, when over 70 residents and interested parties met with two representatives of Halcyon Tidal Power and the subsidiary Pennamaquan Tidal Power LLC and two representatives of the Federal Energy Regulatory Commission (FERC). The meeting was required by FERC as part of the "initial study plan meeting and revised process plan" of the tidal company's hydropower proposal.

Two festivals cook up crowd-pleasing fun
Succulent salmon to be served
by

Susan Esposito
The 28th annual Eastport Salmon and Seafood Festival will be held on Saturday and Sunday, August 30 and 31, and Eastport Area Chamber of Commerce President Meg Keay says, "It will be a wonderful way to end the summer."
Wild pirates to make landfall
by

Susan Esposito
The ninth annual Eastport Pirate Festival will be held on Friday, Saturday and Sunday, September 5, 6 and 7, and will feature food, fun and lots of family-friendly entertainment.
Boat School board expands, awaits lawsuit judgment
by

Lora Whelan
Within a mere 75 minutes the Friends of the Boat School had garnered seven new board members, doubling the size of the board and bringing in the "fresh blood and new ideas" that long‑time board member Dean Pike said was needed. The group's annual meeting was held on the evening of August 11 at the Boat School facility at the Maine Marine Technology Center on Deep Cove Road.
Two killed in crash of medevac flight
by

Arlene Benham
Grand Mananers were left reeling in the wake of another tragedy on Saturday, August 16, when a Piper PA31 on a medevac flight crashed short of the runway around 5 a.m. in fog. Pilot Klaus Sonnenberg, president of Atlantic Charters, was killed. Sonnenberg was the mainstay of the island's air service, which he established in 1978. Also killed was paramedic William "Billy" Mallock, who had almost 20 years of service. A second pilot and a registered nurse were injured and were taken to Saint John Regional Hospital. The nurse was released Sunday; the pilot remained in stable condition.