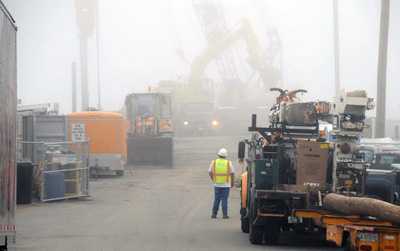 A FOGGY BALLET. Heavy construction equipment moves through the mist as CPM Constructors drives sheet piling and removes fill from the Eastport breakwater on an August morning. The reconstruction work is expected to take two years. (Edward French photo)
Subscribe to Quoddy Tides
Rates:$31.65 a year in Washington County, Maine
(tax included)
$36.93 a year in Maine, but outside of Washington
(tax included)
$35.00 a year in Canadian funds
Single copies: $1.25

To read all the news in The Quoddy Tides, subscribe now or pick up the newspaper at your local newsstand.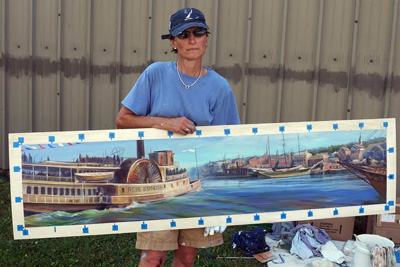 ARTIST AMY BARTLETT WRIGHT holds up her finalized concept image of the soon-to-be-completed mural on the side of the Calais Community Thrift Store. Bartlett Wright has been working since August 12 to complete the wall-sized mural, which shows a well-known steamship plying the waters of the St. Croix River alongside the Calais waterfront at the turn of the 20 century. (Lura Jackson photo)
Front Page Stories
by Lora Whelan
An end of an era is at hand for the Robbinston Grade School, but parents of school‑age children won't have time to mourn the loss as they place their children elsewhere by the start of school next week. At the town's August 19 referendum vote, residents voted 149 to 124, a margin of 25 votes, to close the school after a number of years of contentious budget discussions revolving around school costs. The voter turnout was 64%. Town Clerk Cathy Footer reports that there are 426 registered voters in the town, and of the 273 ballots cast, 56 were absentee.
East Machias hatchery working to bring Atlantic salmon home
by

RJ Heller
On a cool sunlit morning, as mist hovers over the stream, the salmon begin to move, returning home. There is nothing like the sight of a salmon returning from the ocean waters, up a river to where it began life, to spawn and make new life. Many years ago, those sights were plentiful on the East Machias River and brought with them a cadence to life in Downeast Maine. But today there is a quiet absence. The salmon have nearly disappeared from this and other rivers Downeast, but for one organization the commitment to bring back the Atlantic salmon is just as strong today as it was back in 2000, when it began the challenging task.
Two celebrations sport crowd-pleasing fun
Festival to dish up tasty treats
by

Susan Esposito
The 28th annual Eastport Salmon and Seafood Festival will be held on Saturday and Sunday, September 5 and 6, and Eastport Area Chamber of Commerce director Meg Keay says it will be the perfect occasion to end the summer.

Bounty of booty will bedazzle
by

Susan Esposito
The 10th annual Eastport Pirate Festival will be held on September 11, 12 and 13 and include least 80 events. The Eastport Pirate Festival's official kickoff, though, will be on Saturday, September 5, when Eastport pirates invade Lubec by land, sea and air.

by

Arlene Benham
Grand Manan's Swallowtail Lighthouse was a focal point for some conversations spanning the globe on August 15 and 16, as three amateur radio operators set up shop to participate in the International Lighthouse Lightship Weekend (ILLW).
Lacking manpower, fire department in Cooper to disband
by

Karen Holmes
"The Cooper Volunteer Fire Department is not able to legally function," stated Fire Chief Trevor Flood at the August 15 Cooper Select Board meeting. He explained that this decision came during a recent meeting of the fire department personnel and its board of directors. As with departments throughout the state, the most pressing problem is lack of manpower. There are just not enough volunteers. Mutual aid agreements with neighboring towns will provide response to fires and other emergencies.