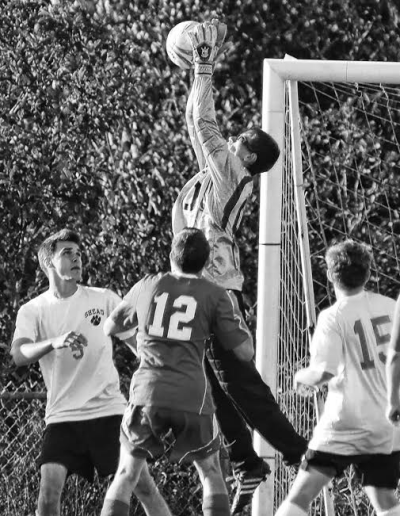 MAKING A SAVE is Shead goalie Isaac Curtis during a soccer game against Jonesport on October 3. The Tigers won and, as of October 12, had a 4-7-1 season record. (Don Dunbar photo)
Subscribe to Quoddy Tides
Rates:$35 a year in Washington County, Maine
(tax included)
$42 a year in Maine, but outside of Washington
(tax included)
$42 a year in Canadian funds
Single copies: $1.50

To read all the news in The Quoddy Tides, subscribe now or pick up the newspaper at your local newsstand.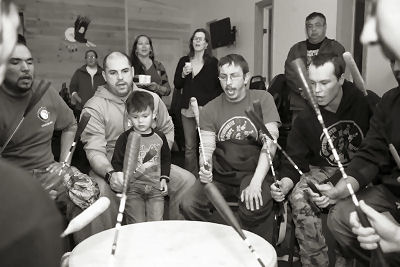 INDIGENOUS PEOPLES' DAY was observed on October 10 at Indian Township, with the public invited to join in for a community social that included supper and drumming. Pictured are (around drum, left to right) Walter Tomah, Matthew Dana, Henry Neptune, Adam Bailey, Nick Nicholas, (behind drummers left to right) Wendy Newell Dyer, Maria Girouard, Esther Attean and Darrin Dana. In addition, presentations for the third annual Wabanaki Wellness Gathering, sponsored by Maine-Wabanaki REACH, were held on topics ranging from rebuilding cooperative food and medicine systems, to steps toward decolonization and knowledge shared by different members of the Wabanaki communities. (Robin Farrin photo)

Front Page Stories
Recognition for tribe in Canada advances
by Edward French
The traditional territory of the Passamaquoddy Tribe, centered around the St. Croix River, extends from Mount Desert Island in Maine to Point Lepreau in New Brunswick. But while the tribe has been federally recognized by the U.S. government for 40 years, the Canadian government still has not granted federal recognition.
New sea lice treatment may up farmed salmon numbers
by Edward French
Farmed salmon production in Maine, which dropped off after the infectious salmon anemia (ISA) outbreaks more than 15 years ago but has slowly grown back, could double if Cooke Aquaculture is successful in using an environmentally friendly process to remove sea lice from the fish. The new process could save the company millions of dollars. The Canadian government recently announced it is investing $3 million in the project, which is estimated to cost over $5 million, with Cooke investing nearly $2 million. The company is hoping to begin using the new sea lice treatment process, which uses warm water instead of costly therapeutants to remove the lice, within the next month.
Family's plight not over after Social Security numbers issued
by Edward French
After fighting for 10 years to obtain birth certificates and Social Security numbers, two Perry residents in their 20s were finally issued Social Security cards in August. For James Santos and his two children, Wocawson Luszcz‑Santos and Kamiwan Luszcz‑Santos, though, the ordeal has left the family broke and the children far behind their peers in being able to find work or start a career.

Healthy Acadia to keep going strong despite funding loss
by

Edward French
The decision by the LePage administration to end the state's 27 Healthy Maine Partnerships will cause the partnership serving Washington and Hancock counties to lose close to half of its funding, but the organization hopes to be able to serve as a subcontractor to the new statewide providers and is optimistic it will continue to provide all of its programs Downeast.
Traveller to visit every U.S. national park
by

Lura Jackson
This past April Mikah Meyer began a road trip that will take him to all of the 413 units of the National Park Service (NPS) over the next four years. When he completes his journey the 30-year-old will be the youngest person to have visited all of the designated sites of the NPS, as well as the only person to do it on a single continuous trip.
Abbott resigns as Eastport city manager
by

Edward French
After nearly two years on the job, Eastport City Manager Elaine Abbott submitted her resignation on September 27, effective November 30, citing personal reasons.