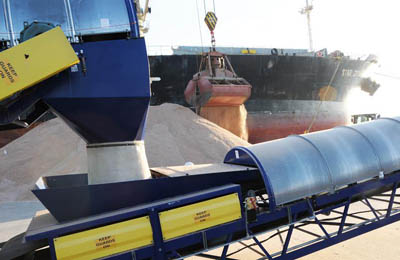 SALT is unloaded on the Estes Head cargo pier at the Port of Eastport by one of the two clamshell buckets on the Star Zeta, before being loaded into the bulk conveyor system in the foreground. (Edward French photo)
Subscribe to Quoddy Tides
Rates:$35 a year in Washington County, Maine
(tax included)
$42 a year in Maine, but outside of Washington
(tax included)
$42 a year in Canadian funds
Single copies: $1.50

To read all the news in The Quoddy Tides, subscribe now or pick up the newspaper at your local newsstand.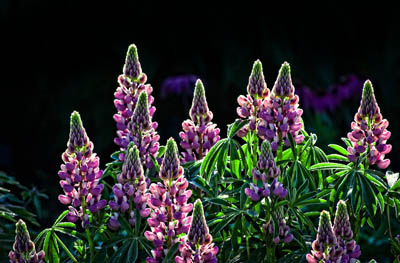 MEANDER through the fields of wild lupines that fill the landscape with hues of blue, purple, white and pink during the month of June. (Chessie Crowe Gartmayer photo)

Front Page Stories
Eastport issues notice to quit to boatbuilder
by Edward French
The dispute between the City of Eastport and Millennium Marine USA over rent payments to the city and money owed to Millennium has now boiled over to the point that the city has told the boatbuilding firm to leave the city-owned Guilford mill building by July 19, while Millennium President Cory Guimond vows to continue working in a section of the building.
by

Edward French
The first shipment of salt at the Port of Eastport was unloaded at a much faster rate than expected, and the much anticipated inaugural use of the $10 million bulk conveyor system, after an initial glitch, went off without a hitch. "We are beyond pleased, as was the customer," says Chris Gardner, executive director of the Eastport Port Authority. "That system ran after a minor glitch for a day and a half flawlessly."
Technical center student teams join in worldwide protein study
by

Lura Jackson
What started out as a competition between teams of students to build the most powerful computer evolved into an exploration at the frontier of molecular science. The students of Jon Bragdon's computer science class at St. Croix Regional Technical Center in Calais have constructed a supercomputer that participates in "protein folding" every evening as part of a global network of computers seeking cures for genetic disorders such as cancer and multiple sclerosis.
Maker and Howard face off in primary election
by

Lora Whelan
In the Tuesday, June 14, primary election in Maine, Washington County voters will face only one contested race, in the Republican primary for State Senate District 6. For the seat that is currently held by Senator David Burns of Whiting, who is not seeking reelection, Republicans will have a choice between Joyce Maker of Calais and William Howard of Calais. Maker has been a member of the House of Representatives since 2010, serving District 140. Howard is currently serving on the Calais City Council. The Democratic candidate is Rocky Alley of Jonesport, who is president of the Maine Lobstering Union. State Senate District 6 encompasses all of Washington County and a portion of Hancock County.