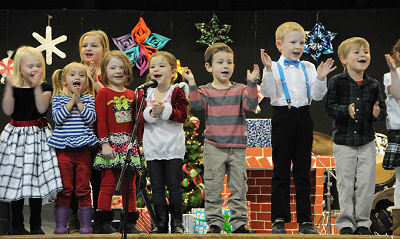 "RING THOSE BELLS!" sing K4 and K5 students at the Eastport Elementary School during the holiday concert on December 14. All of the elementary school grades, along with the Shead High School pep and jazz bands, took part in the concert, under the direction of music teacher Robert Sanchez. (Edward French photo)
Subscribe to Quoddy Tides
Rates:$35 a year in Washington County, Maine
(tax included)
$42 a year in Maine, but outside of Washington
(tax included)
$42 a year in Canadian funds
Single copies: $1.50

To read all the news in The Quoddy Tides, subscribe now or pick up the newspaper at your local newsstand.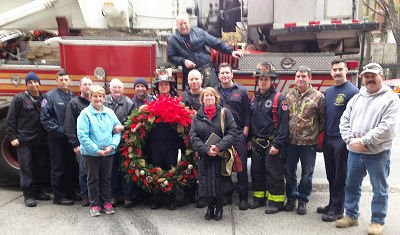 SHOWN with their donated remembrance wreath are members of the Mingo family of Red Beach with firefighters of the New York City Fire Department Station E16/TL7 of lower Manhattan. After 9/11, the Mingo family began providing the fire station with a special 36" wreath every year in remembrance of the fire station's loss of over 10 firefighters during the national tragedy. (Photo courtesy of Glenn Connelly)

Front Page Stories
Port to receive licensing for phytosanitation
by Edward French
The Eastport Port Authority has taken a significant step forward in finally being able to export wood chips through the port with agreements that will allow for the completion of the phytosanitation equipment necessary to export into the European market. Financing for the equipment has been the key missing link in being able to proceed with the project. With the board's action, it's expected that the first trial shipment will take place this spring.
Gift of local wreath remembers sacrifice by firefighters on 9/11
by Lora Whelan
Since 2001 the Mingo family of Red Beach has been donating a large remembrance wreath to a New York City fire station hit hard by the national tragedy of 9/11. Every year the specially made 36" balsam wreath -- decorated with a large red bow, crab apples and different kinds of cones -- arrives at FDNY Engine 16/TL 7 in lower Manhattan and is affixed to the station's exterior with its ladder truck. For the first time in the 15-year history of giving, the Mingo family finally took the time off from their busiest season to go down and meet the fire station's crew. "We decided we needed to do it," says Alden Mingo.
Spirit of season helps bring holiday cheer
by Susan Esposito
This holiday season, despite the poor economy, the spirit of Christmas is evident in Charlotte and Washington counties as people give to neighbors who are less fortunate.

Calais, commissioner meet to talk taxes
by

Lura Jackson
The Calais City Council met with Washington County Commissioner Vinton Cassidy on December 14 to discuss the five percent increase to Calais' county tax for the next year's budget. During the workshop, Cassidy handily explained the cause of the increase in the county's budget, most of which is because of the county shouldering the full cost of the jail as a result of the state stopping funding earlier this year.
Water remediation, housing demolition projects under way
by

RJ Heller
It has been a very long story when it comes to the water remediation for Bucks Harbor and the status of the dilapidated U.S. Air Force base housing at the foot of Howard Mountain, but a new chapter appears to be in the making.