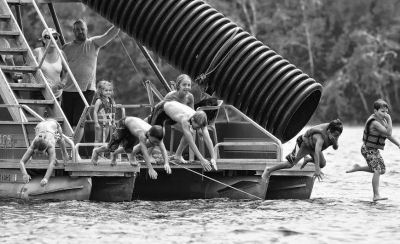 COOLING OFF ON A HOT DAY. Jumping in for a swim off Jeff Turner's pontoon boat at Boyden's Lake are some happy kids. Built in 2008 by Jason Brown, Bush Kerby and Tommy Critchley, it can be anchored so others can join in the fun. The oldest to go down the tube was 72 years old and the youngest was 19 months. (Don Dunbar photo)
Subscribe to Quoddy Tides
Rates:$31.65 a year in Washington County, Maine
(tax included)
$36.93 a year in Maine, but outside of Washington
(tax included)
$35.00 a year in Canadian funds
Single copies: $1.25

To read all the news in The Quoddy Tides, subscribe now or pick up the newspaper at your local newsstand.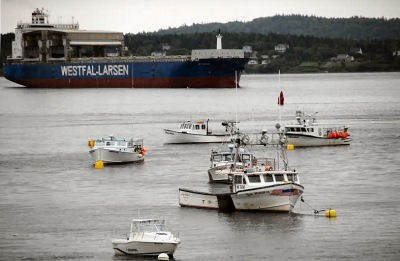 BOATS OF ALL SIZES are seen off Eastport, as the freighter Optimana comes through Friar's Roads to the Estes Head port terminal on July 21, and lobster boats are moored off Prince's Cove. (Edward French photo)
Front Page Stories
by Edward French
The loud pile-driving noise from rebuilding the Eastport breakwater was threatening to cripple the project, as the sound could disturb seals in the bay. After slowing work significantly during the past couple of weeks, the issue was resolved on July 22, when acoustic monitoring equipment determined the level of noise being generated underwater.
Higher costs delay submarine cable project at Cutler base
by

Lora Whelan
The laying of a submarine cable that would provide power to the Naval Computer and Telecommunications Area Master Station Atlantic Detachment Cutler has been delayed by at least another year. Originally planned for a two‑week construction period during either the winter of 2014B2015 or 2015B2016, NAVFAC Mid‑Atlantic Public Affairs Officer Tom Kreidel says that the "more optimistic date" is probably during the winter of 2016B2017. However, Kreidel explains that dates can't be confirmed until "we reprogram through Congress."
Digital detox group learning to live unplugged
by

Lora Whelan
Early on a July Saturday morning a seven‑member group visiting Eastport from Silicon Valley in California as part of a "digital detox" pilot project was hard at work helping the Eastport Recreation Committee clear land for a future skateboard area and a "little tots" park next to the tennis courts on Old County Road. It was hard work with trees and well-established scrub coming down and red ants in abundance.

Council sanctions Cummings; Abbott to stay as manager
by

Laura Whelan
Eastport City Manager Elaine Abbott is maintaining her position with the city after having given an unofficial notice of resignation to the council after the contentious July 8 city council meeting. The public heard the news at the end of a special council meeting held on July 16. Abbott told those people who remained to hear any actions taken after an executive session on personnel matters, "It meant a lot to me to see so many friendly and supportive faces." The city manager noted that over the past week the outpouring of support in the form of e-mails, conversations and other gestures has been overwhelming. "I listen loud and clear to the people I work for," she said, adding, "I'm staying for you guys."

by

Arlene Benham
A year after a car crash killed one Grand Manan teen and injured four others, the driver of the vehicle was sentenced on July 15 in a case both Judge Henrik Tonning and defence lawyer David Lutz hope will provide a warning to others. The woman, whose name is under a publication ban because she was 17 at the time, was charged with one count of dangerous driving causing death and three counts of dangerous driving causing bodily harm.