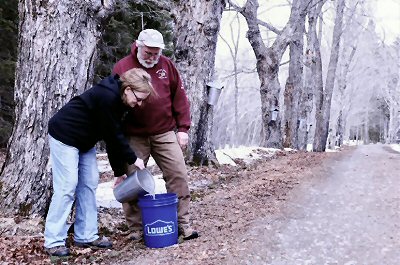 GATHERING THE SAP at Maple Lane Sugary in Robbinston are Mary Ann Duvall and Steve Ftorek. About 100 trees were tapped this year in the sugarbush run by Howard and Mary Duvall, but with March being so cold, the yield was about half of last year's amount. This is the first time they have still sugared off after April 1. (Edward French photo)
Subscribe to Quoddy Tides
Rates:$31.65 a year in Washington County, Maine
(tax included)
$36.93 a year in Maine, but outside of Washington
(tax included)
$35.00 a year in Canadian funds
Single copies: $1.25

PUBLIC NOTICES LINK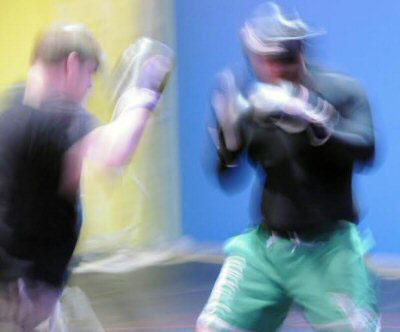 FIGHTING over a fish in Lubec are an adult and an immature bald eagle. (Don Dunbar photo)
TOP STORIES
by Edward French
A new agreement between the U.S. and Canada will allow the U.S. Coast Guard and the Royal Canadian Mounted Police to jointly carry out law enforcement operations in the St. Croix River and the Bay of Fundy. The agreement was signed on April 8 at Coast Guard Station Eastport by U.S. Coast Guard Rear Admiral Dan Abel, commander of the U.S. 1st Coast Guard District, and Assistant Commissioner Roger Brown, commanding officer of the RCMP J Division.
Tribe taps into maple syrup market with Jackman operation
by

Edward French
The Passamaquoddy Tribe is tapping into the maple syrup market this year, as it begins an ambitious plan that will lead to revenue for the tribe and up to 25 jobs. Passamaquoddy Maple Syrup has tapped closed to 3,000 trees in the Jackman area this season, and within three years the tribe plans to tap 60,000 trees and bottle the syrup at Pleasant Point.
County group gains web based mapping tools
by

Lora Whelan
Mapping: Almost everyone takes it for granted. It pretty much makes the human world go round, and without it everyday life would come to a chaotic halt. Even the maps from 10 years ago are looking anachronistic in the digital and global information system (GIS) technology era. Judy East, executive director of the Washington County Council of Governments (WCCOG), is the first to admit that most people's eyes glaze over when she talks about the opportunities that GIS brings to the local level. But their eyes sharpen the minute she mentions the municipal costs saved within annual town budgets when municipal planning maps that can cost $5,000 a pop can now cost in the range of $500. Even better, she says, they're not just paper anymore; they're online and can be updated and enhanced with different layers of information. Software is advancing so rapidly that maps can be manipulated in ways that even six months ago was not possible, East explains.

Mixed martial arts punch up healthy lifestyle at Sipayik
by

Edward French
"It's all about the drive, the push to be resilient," says Joe McLaughlin, one of the coaches for the Sipayik Boxing/Mixed Martial Arts Club, about one of the fastest growing sports that is offering a healthy alternative for young men in the area. A number of mixed martial arts (MMA) fighters are training regularly at the Pleasant Point Youth and Recreation building, with two of the members preparing for upcoming matches.
Adventure taking toll on islanders with breakdowns
Frustration peaked among stranded islanders on April 4, when the Grand Manan Adventure experienced mechanical problems, resulting in cancellation of the last two round trips of the day. The ferry remains docked in Blacks Harbour.