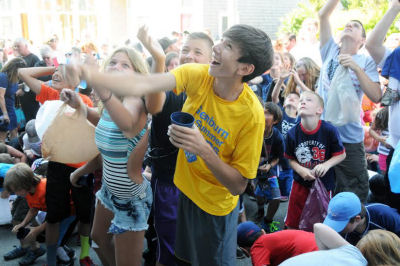 PENNIES FROM HEAVEN. Excited youths reach for pennies and more during the Penny Scramble on the Fourth of July in Eastport. (Edward French photo)
Subscribe to Quoddy Tides
Rates:$31.65 a year in Washington County, Maine
(tax included)
$36.93 a year in Maine, but outside of Washington
(tax included)
$35.00 a year in Canadian funds
Single copies: $1.25

PUBLIC NOTICES LINK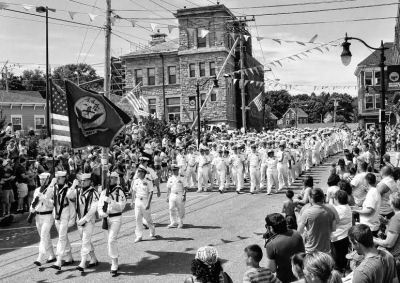 SAILORS from the USS Anzio march through downtown Eastport during the Grand Independence Day Parade. (Don Dunbar photo))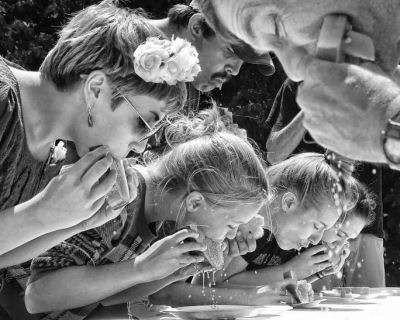 THE TASTE OF SUMMER. Juices flow during the Watermelon Eating Contest on July 2 during the Eastport Fourth of July celebration. (Don Dunbar photo)
TOP STORIES
by Lora Whelan
Chainsaws were in high demand in the aftermath of Tropical Storm Arthur with the sound of whining blades starting up the day of the storm and continuing through the week. High winds and torrential rains arrived on Saturday, July 5, and were replaced by blue skies and sun by the next day, but not before sending many a venerable tree, utility pole and wires crashing down Downeast and in the Maritimes. Utility company crews were out clearing electric lines, with power outages in Washington County still being felt mid‑week by customers of Emera Maine, Eastern Maine Electric Cooperative and New Brunswick Power, with the Canadian company finding the storm's impact on its power grid the worst in the utility's history.
Millennium Marine celebrates opening
by

Edward French
Along with celebrating the Fourth of July, the residents of Eastport and surrounding communities also celebrated the opening of Millennium Marine USA's boatbuilding facility in Quoddy Village on July 4.

Arthur snuffs out 4th fireworks, but parade marches on
by

Susan Esposito and John Lynch
This year's Old Home Week and Fourth of July celebration went very well until Tropical Storm Arthur put a damper on everything. The wind and rain caused the cancellation of the Independence Day fireworks as well as all of the July 5 activities.