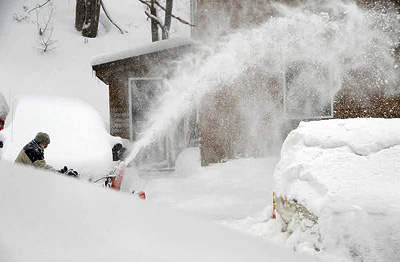 THE YEAR OF THE NEVER-ENDING SNOW. Wayne Tripp clears the snow away at his Sullivan St. home in Eastport, as another 10.6 inches fell on February 25. The Eastport/Lubec area has now received 11 feet of snow in just a one-month period. (Edward French photo)
Subscribe to Quoddy Tides
Rates:$31.65 a year in Washington County, Maine
(tax included)
$36.93 a year in Maine, but outside of Washington
(tax included)
$35.00 a year in Canadian funds
Single copies: $1.25

To read all the news in The Quoddy Tides, subscribe now or pick up the newspaper at your local newsstand.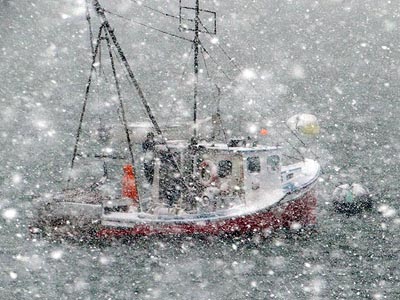 LET IT SNOW, LET IT SNOW, let it snow -- but somewhere else! Captain Dana Barker and Wayne Mooers, aboard the scallop dragger Simone & Rachel off Lubec, get ready to head out to sea. (Chessie Crowe Gartmayer photo)
Front Page Stories
by Edward Frecnch
The Maine Department of Transportation (MDOT) will be providing nearly $2 million in additional funding for rebuilding the Eastport breakwater so that sufficient monies will be committed to accept the lowest bid for the project. The low bidder, CPM Constructors of Freeport, has now been awarded the contract for $14.95 million. Funding includes $6 million from the federal government, $6.95 million from the state and $2 million in local funds, with $1 million from the Eastport Port Authority and an anticipated $1 million Community Development Block Grant for which the city has applied.
Heavy snows lead to concerns about possible spring flooding
by

Lora Whelan
While Washington County residents have been shoveling out their driveways, raking off roofs and looking forward to spring, municipal administrators are facing over‑taxed budgets and dwindling supplies of sand and salt. The January and February snowstorms -- which left municipalities such as Eastport reeling under the weight of 11 feet of snow in just one month -- are creating budgetary stresses and potential challenges if spring thaws are accompanied by heavy or multiple days of rain and a run of warm weather.
Robbinston to vote on AOS withdrawal
by

Lora Whelan
Robbinston residents will have the opportunity to vote on whether the Robbinston School System should withdraw from AOS 77 by town vote set for Monday, March 9, from 12:45 p.m. to 7 p.m. at the Robbinston Fire Station. Not on the ballot is the intent of the school committee to then contract with Calais, with an annual fee paying for superintendent duties such as overseeing the budget and the school, superintendent office duties such as warrants and accounts receivable and payable, as well as special education services. The cost for contracting with Calais has been tentatively agreed upon as 10% of the Calais Superintendent's Office total annual expenses, an amount of just about $40,000 for the current fiscal year. If the annual expense increases, so would the amount of the 10%. Robbinston's current share of the AOS budget is about $54,000.
Student plans trip to India to assist villagers in poverty
by

Abigal Ross
Grand Manan Community School student Harley Cary recently held a fundraiser so she could travel to India and help those in need. Islanders, including some of the best bakers on Grand Manan, came out to support Harley for this amazing trip. The fundraiser was two hours of fun and music, along with a silent auction for baked goods, which prompted some spirited bidding.
Lubec to vote on high school wing demolition option
by

JD Rule
Bids for the possible demolition of the Lubec High School wing were opened during a special meeting of the MSAD 19 board of directors held on February 23. Six complying bids were received, ranging from a low of $144,230 from Thomas DiCenzo Inc. of Calais to a high of $304,000 from Opus Construction, located in Vermont. After discussion, the board elected to accept the bid from Morgan Construction of Pembroke, which will be presented during an upcoming special town meeting for a decision by the voters on whether or not to approve the demolition. Demolition costs are not included in the current school budget and would require a special allocation, funded by taxpayers. The date of the special town meeting has not yet been set.