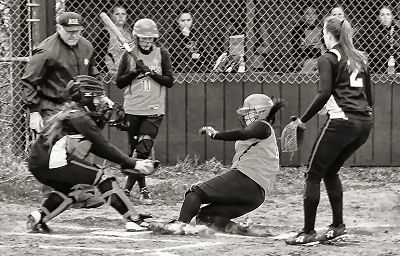 SAFE! Ieishia Mitchell of Shead slides safely into home plate during a May 8 high school softball game against Machias. The Lady Bulldogs defeated the Tigerettes 8-5. (Don Dunbar photo)
Subscribe to Quoddy Tides
Rates:$31.65 a year in Washington County, Maine
(tax included)
$36.93 a year in Maine, but outside of Washington
(tax included)
$35.00 a year in Canadian funds
Single copies: $1.25

To read all the news in The Quoddy Tides, subscribe now or pick up the newspaper at your local newsstand.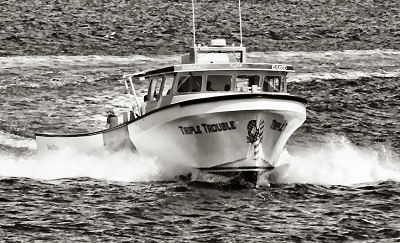 LAUNCHED on May 15 was the Triple Trouble, the first Millennium Marine vessel that was built in Eastport for a local buyer. Brent and Sara Griffin of Pembroke lost their boat Double Trouble 2 when the Eastport breakwater collapsed in December and discovered they were significantly underinsured. Brent typically resumes lobster fishing by the beginning of May, and with the help of Ruth Cash-Smith of CEI and Susan Hatton of the Sunrise County Economic Council, the Griffins were able to obtain a bank loan, TIF loan and a TIF grant in addition to their own investment. Now that they have three children -- 12-year-old Natcha, 10-year-old Kyle and one-year-old Brett, who celebrated his birthday on the day of the launch -- Triple Trouble seemed like a good new name. (Don Dunbar photo)
Front Page Stories
by Edward French
The Eastport Port Authority's proposal to build a new road on a bridge into Eastport, along with a possible rail line, has been gaining steam during the past few weeks. While long-term possibilities include transforming the island into a large cargo port, Port Director Chris Gardner stresses the present-day need for a new route to the port, with only the existing level of tonnage that is being shipped. Representatives of federal, state, tribal and local governments discussed the possibilities at a May 7 stakeholders meeting with the port authority.
Concerns about drug use spur discussion in Lubec with sheriff
by

JD Rule
Washington County Sheriff Barry Curtis and Chief Deputy Michael Crabtree met with a group of about 30 Lubec residents on May 18 to hear concerns about what is described as rampant drug use within the community. Curtis, who campaigned on county drug issues, said, "We're just a few minutes into this." When Crabtree was introduced, his background was characterized as having been involved in drug‑related matters since 1990. The meeting was arranged by Lubec resident Charlotta Farmer; three select board members were present and also one MSAD 19 school board director.
Tribal bills address jurisdiction, history
Domestic violence targeted
by

Edward French
A legislative committee listened to startling national statistics about violence against Native women and heard in graphic detail about brutal assaults in Maine, as it considered a bill to extend jurisdiction over such crimes to tribal courts. However, because of questions raised concerning whether the Maine tribes are facing the same issues as tribes throughout the nation, the Judiciary Committee voted on May 19 to carry the bill over to the next legislative session so that more information can be obtained.

State's past hidden from view
by

Edward French
Passage of a resolution proposing a constitutional amendment regarding the publication of a section of the Maine Constitution that outlines the state's treaty obligations with Native tribes has been recommended by a legislative committee. The Judiciary Committee, though, did express some concerns about whether to try to send the issue out to a statewide referendum vote this coming November or next year, since there could be a cost depending on the number of ballot questions.
Calais decides not to submit bids for ambulance service
by

Lura Jackson
At its May 14 meeting, the Calais City Council debated the issue of whether or not to provide a bid to Alexander and Baileyville for ambulance service.
Major part of AOS budget voted down
by

Lura Jackson
At its May 14 meeting, the Calais City Council debated the issue of whether or not to provide a bid to Alexander and Baileyville for ambulance service.