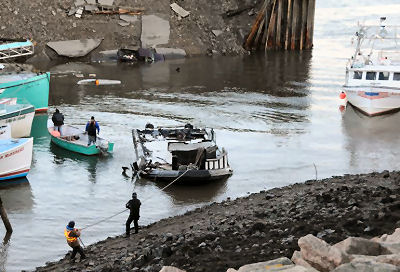 PULLING TOGETHER to help the fishermen whose boats were damaged or destroyed after the Eastport breakwater collapsed the night of December 4 were many people, including diver Scott MacNichol and James DeWitt, who are shown hauling the Medric II to shore after it was refloated. In the background is the pickup truck that fell into the water. (Edward French photo)
Subscribe to Quoddy Tides
Rates:$31.65 a year in Washington County, Maine
(tax included)
$36.93 a year in Maine, but outside of Washington
(tax included)
$35.00 a year in Canadian funds
Single copies: $1.25

PUBLIC NOTICES LINK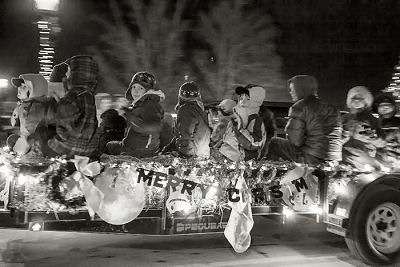 HERE COMES SANTA! Parading through Calais during the Calais Lioness' Christmas parade
on Friday
night, December 5, were many floats, including this one with local Cub Scouts. (Robin Farrin photo)
TOP STORIES
by Edward French
Cobscook Bay area scallop fishermen were finding an abundance of scallops, a good price and fewer draggers from other ports, with the opening of the state's scallop season on December 1. With a smaller number of boats fishing, fishermen hope that the season in the state's Zone 3, which is set at 50 days, will last longer than in 2013-14, when it was closed after 29 days.
Section of Eastport breakwater collapses
Fishermen count blessings
by

Edward French
An Eastport fisherman is a lucky man and the entire fishing community is counting its blessings after the catastrophic collapse of a large section of the Eastport breakwater at about 2 a.m. on Thursday, December 4. Although three boats and a pickup truck were totalled or severely damaged, no one was killed or sustained any serious injuries. The outcome could have been very different.
New Broad Cove berthing eyed
by

Edward French
Following the collapse of a large section of the Eastport breakwater, Port Director Chris Gardner stated, "Our number one concern is to work with those who lost property, and we want to make sure the fishing community gets back to work. That's the most important thing we can do for the local economy." Along with meetings and discussions with federal and state officials and the fishing and construction industries to figure out solutions, fishermen and port officials have been acting to put in place new berthing during the two-year breakwater reconstruction period for all of the boats that used the pier. The port authority's property at Broad Cove that had been owned by the Mearl Corporation is most likely the site for a new berthing system. Funding for new berthing is still be determined..

Food pantries see an increase in need
by Lora Whelan
Food pantries in Washington and Charlotte counties are holding their own as they enter the tough months of the winter, but it wouldn't be so without the help of many, pantry coordinators say. Food pantries often provide a number of services besides access to food, including fuel funds, warm clothing programs and Christmas gifts for children. However, it is the food programs that are the mainstay for those who are struggling financially to make ends meet.

Daycare shortage hurts area families
by

Edward French
The closure of four daycare homes in Calais within the past year has led to a shortage of child-care services for parents in eastern Washington County. The Maine Department of Health and Human Services (DHHS), which licenses child-care facilities, is aware of the shortage and is working to help get more homes licensed.
Eastport man charged with felony assault
by

Susan Esposito
A 30-year-old Eastport man was charged with three felonies after a standoff with law enforcement officers on December 2 in Pembroke.