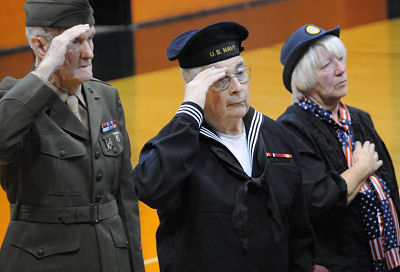 REMEMBERING as they salute during the playing of Taps at the Veterans Day service in Eastport are U.S. Marine Corps veteran J. Roland Mitchell, U.S. Navy veteran Jim Spinney and Patti Craig of the American Legion Auxiliary. (Edward French photo)
Subscribe to Quoddy Tides
Rates:$31.65 a year in Washington County, Maine
(tax included)
$36.93 a year in Maine, but outside of Washington
(tax included)
$35.00 a year in Canadian funds
Single copies: $1.25

PUBLIC NOTICES LINK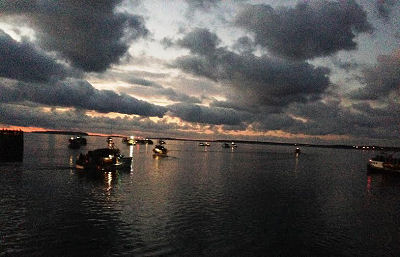 HEADING OUT at first light from North Head, Grand Manan, to set their traps are lobster boats on the first day of the season, November 11. (Bonnie Morse photo)
TOP STORIES
by Edward French
The Passamaquoddy tribal government at Pleasant Point has been placed under sanction by the U.S. Department of Interior's Bureau of Indian Affairs (BIA) for being delinquent on its audit reports. In an October 1 letter to the tribal chief, the department states that it will make payments of contract funds only with monthly advance installments until the delinquent 2013 audit has been submitted. The letter states that BIA may impose additional sanctions, including withholding federal awards or terminating them, if the audits are not submitted in a timely manner.
Welshpool Landing effort aims to rebuild local wharf and hall
by

JD Rule
"We want to reestablish Welshpool Landing as the 'go‑to place,'" said consultant Benson Milner, speaking at an open house hosted by the Friar's Bay Development Association (FBDA) on October 29. The event, which attracted about 20 individuals, was held in Welshpool Hall, an important component of the redevelopment group's vision. Plans call for upgrading of the facility and the nearby wharf into a destination for cruise and tourist vessels and also for use by commercial fishermen.
Growing hope through county's harvest
Dry-picked cranberries are new trend
by

Lora Whelan
Lovers of Maine‑grown cranberries may want to stock up while they can or they may be without their favorite condiment come Thanksgiving. University of Maine Cooperative Extension Cranberry Specialist Charlie Armstrong says the 2014 harvest is way down, in some cases as much as 70%. "Every year it's different," says Artie Mingo of the Robbinston‑based Mingo's Evergreen Products, which has 17 acres of cranberries.

Wreaths to aid cancer efforts
by Lora Whelan
Wreaths For Hope was born from a characteristic that the Mingo family of the Robbinston‑based Mingo's Evergreen Products knows well: hope. Artie Mingo knows what it means to go without sleep because a loved one is ill. When his son was born almost 20 years ago with a severe blood disorder, the family spent many sleepless nights while the infant was in and out of hospitals.
Lubec woman dies in Trescott accident
by

JD Rule
A Lubec woman died in a single‑vehicle accident during the early November snowstorm that paralyzed much of the state. Danielle D. Moores, 28, died at the scene when her vehicle, a 2002 Ford F‑250, flipped over and landed in five feet of water alongside State Route 189 in Trescott. The accident, termed a "storm death" by the Maine Department of Public Safety, occurred at approximately 6:30 p.m., about 3.3 miles east of the Whiting Corner, on November 2. Maine State Trooper Staci Carpenter responded, assisted by members of the Lubec Fire Department, Downeast EMS and Randy Hall Towing. A small white teddy bear held vigil on the nearby culvert Tuesday morning, after most of the snow and ice had melted. The words "we love you Danielle" were printed on the bear.
Local voting reflects nationwide mood in electing Republicans
by

Edward French
Washington County voters reflected the statewide trend of electing Republican candidates to office, by even wider margins than the state percentages, and a new sheriff will be riding into the county, following the November 4 general election in Maine. The county will continue to have only one Democrat in the state legislature, as an incumbent Democratic representative, Katherine Cassidy of Lubec, lost her seat, while a new Democratic representative, Robert Alley Sr. of Beals, was elected for House District 138.